It's rare and weird, You know someone for just 3 or 4 years and so influenced by her. Her voice is an essence of love, sorrow and joy and she is singing and she is chatting with a special person. Good to know she knows it.
She is talking to

God.

"I sing in the language of the Heart "

she has said and she has started it when she was about

12.

and there are some

theology

behind it that is close to mine. Not the

same

......But

close

. You are very close Lisa Gerrard.
She has said: " Now I am filled with the Holy Ghost, that is the promise in the Bible the Church will not talk about, because this secret would mean the fall of the religion." The idea is that one can have a personal relationship with God without the interference of an organization like the Church. "
She is talking and every word has its meaning that can't be repeated. She is talking and you know for sure that it's not any language that you have heard before but you know what she means......Yeah you get it right......It's speaking with your heart. The only language every being of The Almighty could understand if he is still under his order, care and love.
"you better be recording when Lisa starts to sing because whatever she starts singing cannot be duplicated." "When you put the picture up - and you'd better be recording, if she (Lisa) sees the picture and starts singing amazing things will start happening and you'd better capture it."(Hans Zimmer)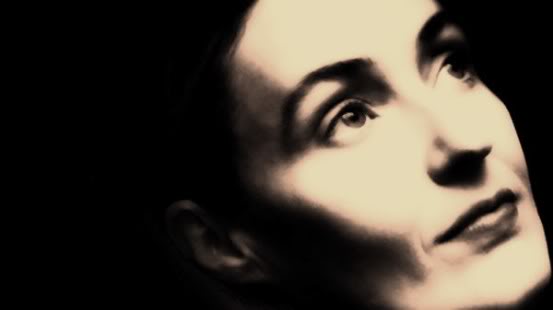 PLAY
Anol shalom
Anol sheh lay konnud de ne um
Flavum
Nom de leesh
Ham de nam um das...


La um de
Flavne
We de ze zu bu
We de sooo a ru
Un va-a pesh a lay
Un vi-i bee
Un da la pech ni sa


Aaahh


Un di-i lay na day
Un ma la pech a nay mee di nu ku


La la da pa da le na da na
Ve va da pa da le na la dumda
La la da pa da le na da na
Ve va da pa da le na la dumda
La la da pa da le na da na
Ve va da pa da le na la dumda
La la da pa da le na da na
Ve va da pa da le na la dumda


Anol shalom
Anol sheh ley kon-nud de ne um
Flavum
Flavum
M-ai shondol-lee
Flavu Lof flesh lay
Nof ne
Nom de lis
Ham de num um dass
La um de
Flavne
Flay
Shom de nomm
Ma-lun des dwondi.
Dwwoondi


Alas sharum
du koos
Shaley koot-tum